Despite the existing effects of the pandemic on the real estate sector, we expect that the sector will record increased activities supported by the continued expansion of local retailers – Cytonn Research
NAIROBI, Kenya — During the week, Central Bank of Kenya (CBK) released the Quarterly Economic Review October-December 2020 indicating that the real estate sector recorded a 6.4% increase in the gross non-performing loans in Q4'2020 to Kshs 61.4 billion from Kshs 57.7 billion in Q3'2020 attributed to layoffs, business closures affecting the commercial office and retail sectors, and travel restrictions triggered by the pandemic affecting the performance of the hospitality industry. [1US$=Ksh107.56]
Industry Report
The loans acquired through title deeds posted the fastest growing default rates attributable to low demand of residential units especially in the high end areas and commercial units which caused a slump in the sector. The report also indicates that the gross non-performing loans in the real estate sector account for 14.0% of the total real estate loan book which is valued at Kshs 439.0 bn.
With regards to the loans by sector, real estate accounts for 14.6% of the total banking sector lending which is estimated to be Kshs 3.0 tn. The graph below shows data of the gross non-performing loans and the total loan book in the real estate sector from 2016-2020;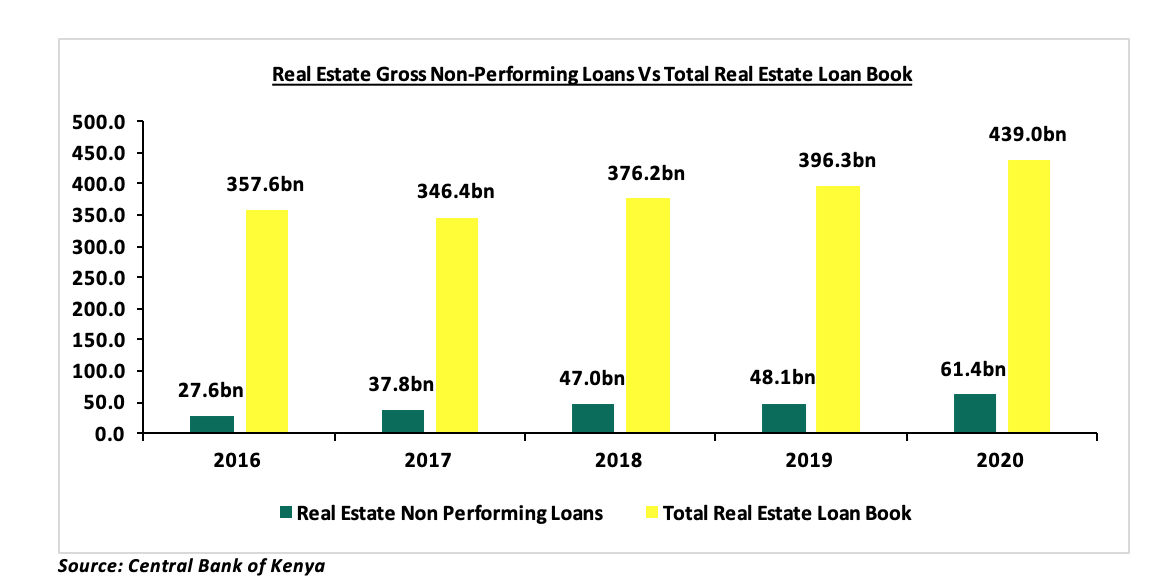 The resultant impact of this is that most of the lenders will pull back or cease new lending on real estate backed loans due to the risk of default in payment. Lenders are expected to exercise a more conservative underwriting approach as a strategy to cushion themselves against the pandemic which is marked by high loan default rates.
Retail Sector
During the week, Naivas Supermarket opened a new outlet in Nakuru taking up space previously occupied by Tuskys marking its fourth outlet in Nakuru and 71st countrywide.
Cleanshelf Supermarket also opened a new branch in the same town taking up space left by Ukwala marking its first outlet in Nakuru and 12th countrywide.
The decision by the retailers to focus on Nakuru town is supported by presence of a growing middle class population in the area that serves as a market for its products, positive demographics with Nakuru having a population of 2,162,202 as at 2019 representing a 602.0% population growth from 307,990 in 2009 according to the Kenya National Bureau of Statistics 2019 Census Report, and improving infrastructure.
In terms of performance, according to our Kenya Retail Sector Report 2020, Nakuru posted the lowest average rental yield of 5.9% against the market average of 6.7%. This is attributable to stiff competition from the informal retail market as well as a limited supply of quality retail space in the town.
The retailers are however leveraging on affordability as their main reason for moving to Nakuru with the average rent per SQM in 2020 coming in at Kshs 55.7 compared to the market average of Kshs 115.1.
The retail performance of key urban centres in Kenya is summarized below:
All Values in Kshs Unless Stated Otherwise
Summary Performance of Key Urban Cities in Kenya
Region
Rent/SQFT 2020
Occupancy% 2020
Rental Yield 2020
Mount Kenya
125
78.0%
7.7%
Nairobi
168.5
74.5%
7.5%
Mombasa
114.4
76.3%
6.6%
Kisumu
97.2
74.0%
6.3%
Eldoret
130
80.2%
5.9%
Nakuru
55.7
76.6%
5.9%
Average
115.1
76.6%
6.7%
Source: Cytonn Research
The table below shows the summary of the number of stores of the key local and international retail supermarket chains in Kenya;
Main Local and International Retail Supermarket Chains
Name of Retailer
Category
Highest number of branches that have ever existed as at FY'2020
Number of branches opened in 2021
Closed branches
Current number of Branches
Naivas
Local
69
2
0
71
Tuskys
Local
64
0
61
3
QuickMart
Local
37
3
0
40
Chandarana Foodplus
Local
20
0
0
20
Carrefour
International
9
3
0
12
Cleanshelf
Local
11
1
0
12
Uchumi
Local
37
0
35
2
Game Stores
International
3
0
0
3
Choppies
International
15
0
13
2
Shoprite
International
4
0
2
2
Nakumatt
Local
65
0
65
0
Total
334
9
176
167
Source: Online research
Artcaffe Group, a restaurant chain based in Kenya, announced plans to open four new outlets within the Nairobi Metropolitan Area in Kileleshwa, Freedom Height Mall in Lang'ata, ACK Gardens in Upperhill, and at Hardy in Ngong. This will bring the total number of outlets opened by Artcaffe in the last 16 months to 11.
The expansion drive by the retailer is aimed at matching the existing competition from its competitors such as Big Square, KFC and Subway who have also been aggressively expanding fuelled by private equity investments.
In our opinion, Nairobi continues to present a viable opportunity for investors supported by a stable political environment, Nairobi's position as a regional hub in East Africa, an attractive demographic profile with rise in middle class that form a majority of potential customers, and sustained infrastructure development boosting economic growth.
The continued expansion by local and international retailers is expected to cushion the performance of the retail sector which has been affected by the Covid-19 pandemic which led to decreased footfall and sales in retail outlets, constrained spending power among consumers due to a tough macroeconomic environment, shifting focus by some retailers to e-commerce thus reducing demand for physical retail space, and exit by some retailers such as Shoprite and Nakumatt.
[1US$=Ksh107.56]